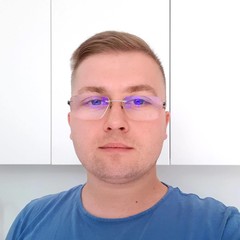 Artem Danylov
3D generalist | artem.danylov@gmail.com
Kharkiv, Ukraine
About
Hi there! My name is Artem Danylov and I am a 30 years old 3d artist with a passion for 3d since I was 16.
My working XP is about 8 years. In past years I`m focused on motion design and 3d animation.
Now working as a freelance 3d artist for company that based in Las Vegas and produces video games for casinos.
I never stop improving my skills, now I`m on character animation and sidefx houdini courses.
My English level is intermediate.
I`m working everyday from 10:00-20:00
except Saturday-Sunday.
Always online on Skype. Didn't failed any client.
Feedback about me can be found on my upwork account page: https://www.upwork.com/o/profiles/users/_~01984ba8b345e93127/
Skills
3D Animation
3D Visualization
Motion Graphics
VFX
CGI
Software proficiency

Maya

3ds Max

ZBrush

Photoshop

After Effects
Illustrator
Substance Painter

Redshift

Octane Render

V-Ray

Nuke

PFTrack
Reel
Experience
2D & 3D Design and Animation, Commercial or Promotional Videos, UI / UX Designs and Websites, Architectural Visualization.

http://madxde.com/

Identity, publishing advertising, magazines, catalogs and booklet, street advertising, branding, pack, web, 3d modeling, ui.